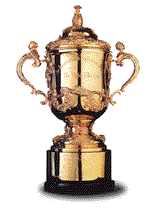 ---
The third edition of the Rugby World Cup was held in 1995, and was hosted by South Africa, the first time that a single country hosted the whole event.
---
Participants :
The 8 teams that played in the 1991 Quarter Finals qualified automatically, as well as the host nation, South Africa. There was a qualification process for the remaining 7 places.

Automatic Qualifiers:
Australia
Canada
England
France
Ireland
New Zealand
Scotland
South Africa
Western Samoa

Qualifiers:
Argentina
Italy
Ivory Coast
Japan
Romania
Tonga
Wales

South Africa, Ivory Coast and Tonga were new participants from the 1991 World Cup, in the place of United States, Zimbabwe and Fiji.
Pool 1
Pool 2
Pool 3
Pool 4
South Africa
England
New Zealand
France
Australia
Western Samoa
Ireland
Scotland
Romania
Italy
Wales
Tonga
Canada
Argentina
Japan
Ivory Coast
---
Matches : Pool Stages

Date
Venue
Stage
Team 1
Score
Team 2
25 May 1995
Cape Town
Pool 1
South Africa
27-18
Australia
26 May 1995
Port Elizabeth
Pool 1
Canada
34-3
Romania
26 May 1995
Rustenburg
Pool 4
Ivory Coast
0-89
Scotland
26 May 1995
Pretoria
Pool 4
France
38-10
Tonga
27 May 1995
East London
Pool 2
Italy
34-3
Western Samoa
27 May 1995
Durban
Pool 2
Argentina
18-24
England
27 May 1995
Bloemfontein
Pool 3
Japan
10-57
Wales
27 May 1995
Johannesburg
Pool 3
Ireland
19-43
New Zealand
29 May 1995
Rustenburg
Pool 4
France
54-18
Ivory Coast
29 May 1995
Pretoria
Pool 4
Scotland
41-5
Tonga
30 May 1995
Cape Town
Pool 1
South Africa
21-8
Romania
30 May 1995
East London
Pool 2
Western Samoa
32-26
Argentina
31 May 1995
Port Elizabeth
Pool 1
Australia
27-11
Canada
31 May 1995
Durban
Pool 2
England
27-20
Italy
31 May 1995
Bloemfontein
Pool 3
Ireland
50-28
Japan
31 May 1995
Johannesburg
Pool 3
New Zealand
34-9
Wales
3 June 1995
Stellenbosch
Pool 1
Australia
42-3
Romania
3 June 1995
Port Elizabeth
Pool 1
South Africa
20-0
Canada
3 June 1995
Rustenburg
Pool 4
Ivory Coast
11-29
Tonga
3 June 1995
Pretoria
Pool 4
France
22-19
Scotland
4 June 1995
Durban
Pool 2
Argentina
25-31
Italy
4 June 1995
Durban
Pool 2
England
44-22
Western Samoa
4 June 1995
Bloemfontein
Pool 3
Japan
17-145
New Zealand
4 June 1995
Johannesburg
Pool 3
Ireland
24-23
Wales
Pool 1 after the Pool Stages:

Team
Played
Won
Drew
Lost
PF
PA
PD
Points
South Africa
3
3
0
0
68
26
42
9
Australia
3
2
0
1
87
41
46
7
Canada
3
1
0
2
45
50
-5
5
Romania
3
0
0
3
14
97
-83
3
Pool 2 after the Pool Stages:

Team
Played
Won
Drew
Lost
PF
PA
PD
Points
England
3
3
0
0
95
60
35
9
Western Samoa
3
2
0
1
96
88
8
7
Italy
3
1
0
2
69
94
-25
5
Argentina
3
0
0
3
69
87
-18
3
Pool 3 after the Pool Stages:

Team
Played
Won
Drew
Lost
PF
PA
PD
Points
New Zealand
3
3
0
0
222
45
177
9
Ireland
3
2
0
1
93
94
-1
7
Wales
3
1
0
2
89
68
21
5
Japan
3
0
0
3
55
252
-197
3
Pool 4 after the Pool Stages:

Team
Played
Won
Drew
Lost
PF
PA
PD
Points
France
3
3
0
0
114
47
67
9
Scotland
3
2
0
1
149
27
122
7
Tonga
3
1
0
2
44
90
-46
5
Ivory Coast
3
0
0
3
29
172
-143
3
Matches : Knock-out Stages

Date
Venue
Stage
Team 1
Score
Team 2
10 June 1995
Durban
QF
France
36-12
Ireland
10 June 1995
Johannesburg
QF
South Africa
42-14
Western Samoa
11 June 1995
Cape Town
QF
England
25-22
Australia
11 June 1995
Pretoria
QF
New Zealand
48-30
Scotland
17 June 1995
Durban
SF
South Africa
19-15
France
18 June 1995
Cape Town
SF
England
29-45
New Zealand
18 June 1995
Pretoria
3rd place playoff
France
19-9
England
18 June 1995
Johannesburg
Final
South Africa
15-12 (After Extra Time)
New Zealand