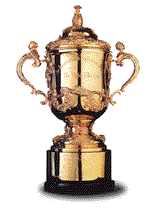 ---
The second edition of the Rugby World Cup was held in 1991, and was jointly hosted by England, Scotland, Wales, Ireland and France.
---
Participants :
33 countries entered to play in the 1991 World Cup, so there was a qualification process to narrow it down to the 16 participants. The 8 teams that played in the 1987 Quarter Finals qualified automatically, and the other 25 nations competed in a qualification process for the remaining 8 places.

Automatic Qualifiers:
Australia
England
Fiji
France
Ireland
New Zealand
Scotland
Wales

Qualifiers:
Argentina
Canada
Italy
Japan
Romania
Western Samoa
United States
Zimbabwe

Western Samoa was the only new participant from the 1987 World Cup, in the place of Tonga.
Pool 1
Pool 2
Pool 3
Pool 4
New Zealand
Scotland
Australia
France
England
Ireland
Wales
Fiji
Italy
Japan
Western Samoa
Canada
United States
Zimbabwe
Arentina
Romania
---
Matches : Pool Stages

Date
Venue
Stage
Team 1
Score
Team 2
3 October 1991
London
Pool 1
England
12-18
New Zealand
4 October 1991
Llanelli
Pool 3
Argentina
19-32
Australia
4 October 1991
Beziers
Pool 4
France
30-3
Romania
5 October 1991
Otley
Pool 1
Italy
30-9
United States
5 October 1991
Edinburgh
Pool 2
Scotland
47-9
Japan
5 October 1991
Bayonne
Pool 4
Canada
13-3
Fiji
6 October 1991
Dublin
Pool 2
Ireland
55-11
Zimbabwe
6 October 1991
Cardiff
Pool 3
Wales
13-16
Western Samoa
8 October 1991
Gloucester
Pool 1
New Zealand
46-6
United States
8 October 1991
London
Pool 1
England
36-6
Italy
8 October 1991
Grenoble
Pool 4
France
33-9
Fiji
9 October 1991
Dublin
Pool 2
Ireland
32-16
Japan
9 October 1991
Edinburgh
Pool 2
Scotland
51-12
Zimbabwe
9 October 1991
Pontypool
Pool 3
Australia
9-3
Western Samoa
9 October 1991
Cardiff
Pool 3
Wales
16-7
Argentina
9 October 1991
Toulouse
Pool 4
Canada
19-11
Romania
11 October 1991
London
Pool 1
England
37-9
United States
12 October 1991
Edinburgh
Pool 2
Scotland
24-15
Ireland
12 October 1991
Cardiff
Pool 3
Wales
3-38
Australia
12 October 1991
Brive
Pool 4
Fiji
15-17
Romania
13 October 1991
Leicester
Pool 1
Italy
21-31
New Zealand
13 October 1991
Pontypridd
Pool 3
Argentina
12-35
Western Samoa
13 October 1991
Agen
Pool 4
France
19-13
Canada
14 October 1991
Belfast
Pool 2
Japan
52-8
Zimbabwe
Pool 1 after the Pool Stages:

Team
Played
Won
Drew
Lost
PF
PA
PD
Points
New Zealand
3
3
0
0
95
39
56
6
England
3
2
0
1
85
33
52
4
Italy
3
1
0
2
57
76
-19
2
United States
3
0
0
3
24
113
-156
0
Pool 2 after the Pool Stages:

Team
Played
Won
Drew
Lost
PF
PA
PD
Points
Scotland
3
3
0
0
122
36
86
6
Ireland
3
2
0
1
102
51
51
4
Japan
3
1
0
2
77
87
-10
2
Zimbabwe
3
0
0
3
102
31
-127
0
Pool 3 after the Pool Stages:

Team
Played
Won
Drew
Lost
PF
PA
PD
Points
Australia
3
3
0
0
79
25
54
6
Western Samoa
3
2
0
1
54
34
20
4
Wales
3
1
0
2
32
61
-29
2
Argentina
3
0
0
3
38
83
-45
0
Pool 4 after the Pool Stages:

Team
Played
Won
Drew
Lost
PF
PA
PD
Points
France
3
3
0
0
82
25
57
6
Canada
3
2
0
1
45
33
12
4
Romania
3
1
0
2
31
64
-33
2
Fiji
3
0
0
3
27
63
-36
0
Matches : Knock-out Stages

Date
Venue
Stage
Team 1
Score
Team 2
19 October 1991
Paris
QF
France
10-19
England
19 October 1991
Edinburgh
QF
Scotland
28-6
Western Samoa
20 October 1991
Dublin
QF
Ireland
18-19
Australia
20 October 1991
Villeneuve d'Ascq
QF
Canada
13-29
New Zealand
26 October 1991
Edinburgh
SF
Scotland
6-9
England
27 October 1991
Dublin
SF
Australia
16-6
New Zealand
30 October 1991
Cardiff
3rd place playoff
New Zealand
13-6
Scotland
31 October 1991
London
Final
Australia
12-6
England